I know there are people out there that claim that the chocolate chip cookie is too common to be considered a Christmas cookie. Christmas cookies should be *special* and spectacular. While this is ok, I tend to hang onto the belief that Christmas cookies are whatever you enjoy, and because the CCC is one of my favorites, I always include some in my yearly holiday baking.
Over the years I've used a few different recipes including the one on the package of butter flavored
Crisco
but recently I've switched to butter and I've been using the traditional
Nestle Toll House cookie recipe
. Unfortunately somewhere along the lines things have changed and the past 5-6 times I've made the recipe the cookies have come out quite flat. I made them again last week with dark chocolate M&Ms and they were absolutely pancake-esque. Displeased with the results I ventured onto the web to find out what might cause the problem and what my options were for fixing it. I consulted various sources including forums of bakers and the advice varied from "add more flour" to "that's how they're supposed to be".
Then I stumbled across this fantastic pic on Pinterest.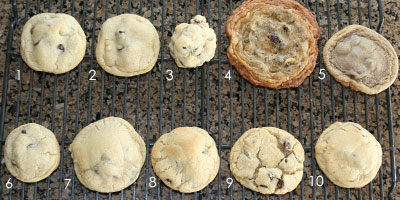 The site it links to gives you information on how to diagnose your CCC issues. It's great - check it out
here
. Based on the picture, my cookie problem was definitely not enough flour so I decided to give them a go again. Here's the recipe I went with - adapted from the Nestle Toll House recipe:
Chocolate Chip Cookies
2 3/4 cups all-purpose flour
1 tsp baking soda
1 tsp salt
2 sticks butter (softened)
1/2 cup granulated sugar
1 cup packed brown sugar
1 tsp vanilla
1 tsp milk
2 large eggs
2 cups chocolate chips
In electric mixer with paddle attachment cream sugars and butter. Add vanilla, milk, and eggs and blend well. In a separate bowl combine flour, baking soda and salt. Add flour mixture to butter mixture slowly until well combined. Stir in chocolate chips.
Use cookie/ice cream scoop to place cookies 2" apart on a parchment lined cookie sheet. Or you can just roll 1" balls, but the scoop will be easier.
Bake at 375* for 9-11 minutes - or until they appear done. Cool on a wire rack and enjoy!
Check out the difference in the cookies!
Original Toll House cookie on the left, adapted recipe on the right.